Automatic Sliding Door system for MAN TGE Vans
Automatic side sliding door system for MAN TGE. PRO" version for 800,000 cycles.
The WIN-DOOR "PRO" operator for side sliding doors is specifically designed to operate all day without overheating and for around 800,000 operating cycles, i.e. around 5 years of intensive use. The advantages of our system over the competition are :
A reversible gearbox that allows the door to be operated manually
Its motor is the most compact and powerful on the market, with a pulling force of around 30 kg. It can easily open even the heaviest sliding side doors on the market, even when the vehicle is parked on a slope.
The fastest rack-and-pinion transmission on the market, with a speed of 0.3 m/s. This means it takes around 2-3 seconds to open/close the door
The door is operated by a button on the dashboard. It is possible to add a button close to the door and a remote control.
The external handle can be concealed to prevent tampering and limit break-in attempts
CE-certified automatic system
Mechanism protected by an elegant casing that blends into the vehicle interior
The door attachment nut is multi-directional, allowing exact adjustment to the vehicle door
The system can be installed in 2 to 4 hours by a technician Full installation instructions are supplied with each pre-assembled kit to make installation easier
Technical specifications:
Power consumption: 70 Watts
Opening speed: 0.3 m/s
Closing speed: 0.3 m/s
Minimum operating temperature: -25°C
Maximum operating temperature: 45°C
Target frequency of use: approx. 500 times / day
Safety (standard in complete kit) :
Anti-pinch system
Mechanical emergency opening from the inside
Mechanical emergency opening from the outside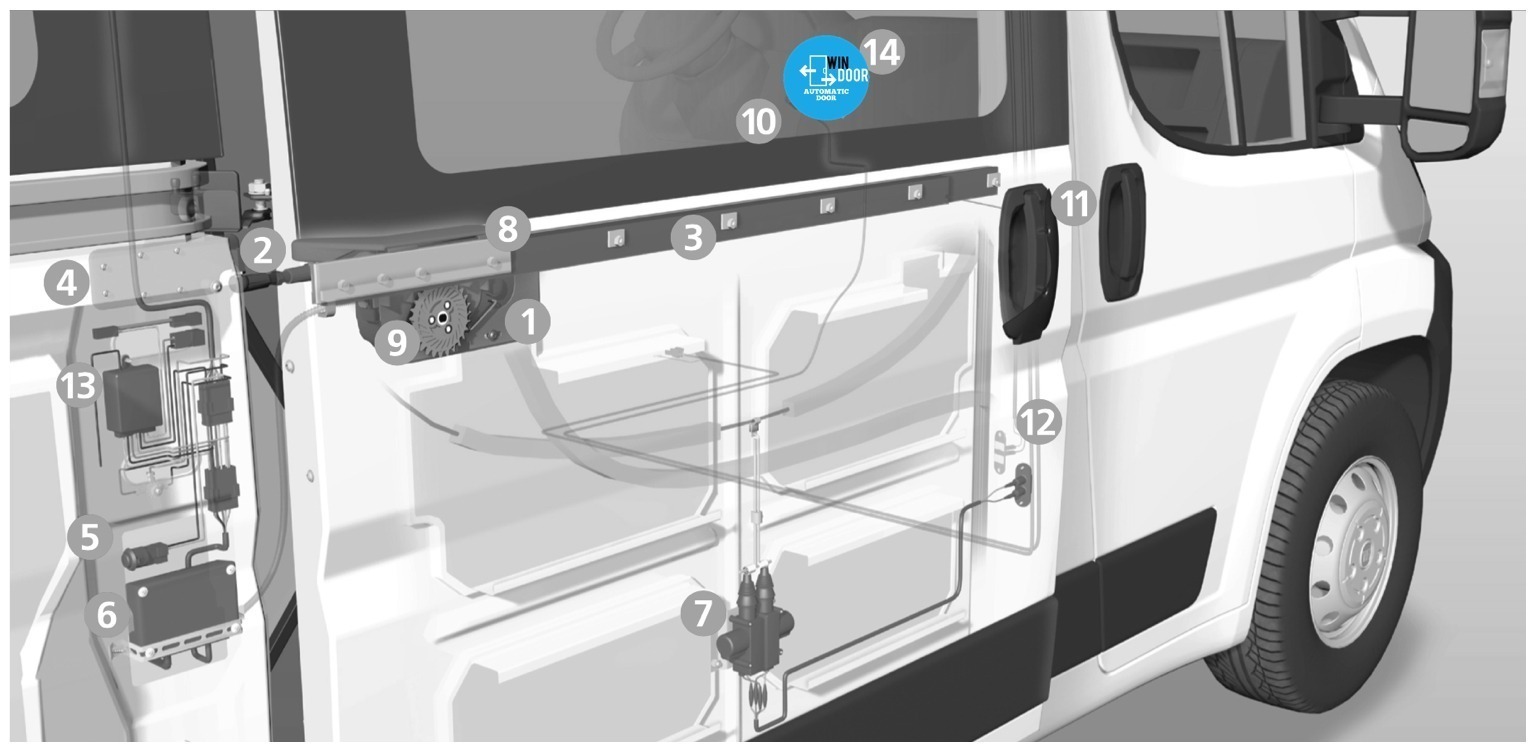 1. Automatic transmission
2. Rod
3. Rack and pinion rail
4. Support
5. Additional opening button (optional)
6. Control box
7. Actuator
8. Rail support
9. Pinion
10. Control knob
11. Handle cover (optional)
12. Door contactors
13. Remote control box (optional)
14. Signage (sticker)
Les paramètres des cookies sur ce site sont définis sur « accepter les cookies » pour vous offrir la meilleure expérience de navigation possible. Si vous continuez à utiliser ce site sans changer vos paramètres de cookies ou si vous cliquez sur "Accepter" ci-dessous, vous consentez à cela.