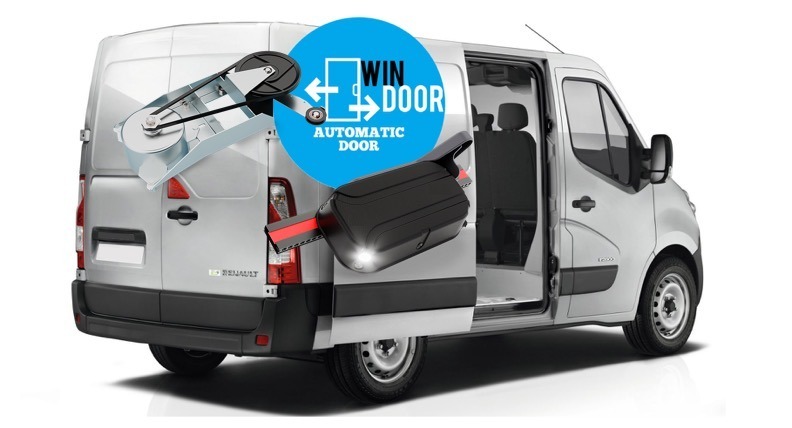 Motorized Sliding Door System for Commercial vehicles, Vans & Campers
WIN-DOOR® is an innovative automatic system specially designed for sliding side doors on commercial vehicles, tradesmen's vehicles, minibuses, vans, camper vans or converted vans (police, ambulance, fire brigade, etc.). This side door operator takes up where the WINDOOR company (hence its name) left off when it was founded in 1992 to develop innovative automatic systems for the doors of professional vehicles, trucks, motorhomes, minibuses and commercial vehicles.
Our electric commercial vehicle side door operator fits virtually all makes and models of LCV currently on the market. Please see the list of makes and models below.
Our electric drive system for LCVs is designed for intensive use (approx. 800,000 life cycles) with a target frequency of use of approx. 500 times a day, i.e. approx. 5 years of use. Its rack-and-pinion drive is the fastest on the market, with a speed of 0.3m/s. This means it takes around 2-3 seconds to open/close the door. Various options are available from the basic kit to ensure maximum comfort and safety, depending on the type of use required: LED lighting, remote control, dashboard button, additional emergency button, external handle cover, etc…
The motorization is easily grafted onto the door or into the interior space, with little or no space available, and is available in two versions: one with a horizontal motor, and one with a vertical motor to adapt to a maximum number of layouts.
The system is available for the following makes and models:
RENAULT MASTER since 2010
PEUGEOT BOXER since 2006
FIAT DUCATO (240) 2002-2006
FIAT DUCATO (250) since 2014
FORD TRANSIT 2006-2014
FORD TRANSIT since 2014
IVECO DAILY 2006 – 2014
IVECO DAILY since 2014
MAN TGE since 2021
MERCEDES SPRINTER (906, 907) since 2006
MERCEDES SPRINTER CLASSIC (909) since 2014
TOYOTA HIACE since 2004
VOLKSWAGEN LT
VOLKSWAGEN CRAFTER 2006 – 2018